Antarctica Cruise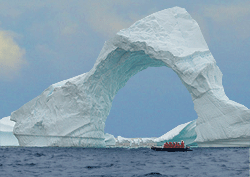 Why an Antarctica cruise is special
The best way I can describe my Antarctica cruise experience is I felt I was on a distant planet.
Most people think of penguins when they hear "Antarctica". Yes, you see them in their natural habitat. But even without the amazing penguins, Antarctica is spectacular.
It has one of the most fascinating natural settings in the world. You absorb bizarre-shaped giant icebergs, jagged snowy mountain peaks, sprawling glaciers, and other marvels.
The three Antarctica Peninsula cruise seasons
Each has its pros and cons. Click blue links below to see them.
Early Season
November to mid-December
Advantages
Landing areas are still pristine because they have not yet been trundled upon by thousands of Antarctica tourists.

Iceberg and icescape shapes are at their dramatic best.

Cruise fares are typically lower and discounts are higher. Cruises are less likely to be sold out and, therefore, could be less crowded.
Drawbacks
Sea ice may not have sufficiently melted, making some landings inaccessible.

Weather is colder and seas are somewhat rougher.

There are fewer daylight hours for sightseeing.

You see less wildlife activity, from ship and on shore.
The above advantages and drawbacks are more pronounced in the first several weeks of November.
Peak Season
mid-December to mid-February
Advantages
Long daylight hours (this peaks on December 22).

Seas tend to be calmer. Waves and winds subside at sea - and in the bays and channels.

Wildlife viewing is at its best, both onboard and on shore. This is the prime penguin egg-hatching season - and the fluffy chicks are adorable.
Drawbacks
Prices are at their highest in all cabin categories.

Many cruises are fully booked six or more months in advance.
Late Season
mid-February to March
Advantages
Whale watching is at its delightful best.
Prices begin to fall - and last-minute bookings are easier to secure.
Some ships become less crowded onboard.
Ice continues to melt, allowing ships to sail to destinations farther south.
Drawbacks
Some landings bear the messy, muddy impact of many previous cruisers.

The penguins begin their "disappearing act" (they leave their breeding grounds to go out to sea to feed).

Daylight hours become shorter and shorter.

Temperature gets appreciably colder.
The above advantages and disadvantages are the most pronounced in March.
ANTARTICA CRUISES ARE NOT FOR EVERYONE
Seasick prone
It takes about two days to cross the Drake Passage, the body of water separating South America and Antarctica. It's where the Atlantic, Pacific and Southern Oceans meet. This can cause rough seas. If someone is very seasick prone, he should consider skipping the cruise. If he is only marginally seasick prone, seasick pills or patches will likely solve the problem.
Non-agile
Unless a person is fit and agile, he may not be up to taking shore trips on the inflatable Zodiac watercrafts. However, if he doesn't mind staying aboard the ship, his lack of sufficient fitness and agility won't matter. He can enjoy the scenery.
Poor health
The ship will be remotely situated, far from highly sophisticated medical facilities. A ship's doctor can deal with only basic medical ailments. He has neither the medicine nor equipment for more serious conditions. Therefore, a person should not go on an Antarctica cruise if he suffers from a life-threatening condition.
Party-ship seeker
Partying is not central to an Antarctica cruise. Educational programs on wildlife, geology and ecology are. If learning about those topics and participating in Zodiac excursions is not someone's cup of tea, he might find an Antarctica cruise boring.
Children
Some ships have 6-to-12 year old minimum age limits. One reason is Antarctica cruises are lengthy and would seem tedious to most children (it's not like a Caribbean cruise with loads of children activities and fun ports of call). However, if your child is adventurous and intellectually curious about Antarctica, it might work. Recognize, though, there will likely be few children (or none) onboard to befriend him.

Read my Antarctica Travel Guide
I created a
Antarctica Travel Guide
to introduce you to this unique adventure.
Read my Antarctica Cruise Guide
I created a
Antarctica Cruise Guide
to introduce you to the cruise options and tradeoffs.