Banaue Rice Terraces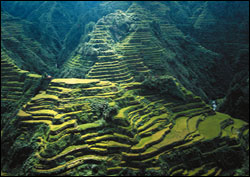 Why the Banaue Rice Terraces are special
While other Asian countries also have photogenic rice terraces, I have never seen one that matches the sheer scale and grandeur of the Banaue Rice Terraces.

Best time to visit the Banaue Rice Terraces
Winter to early spring
This is ideal sightseeing period. During the rainy season (summer and fall), low lying clouds can disappointingly mask the slopes. And landslides (especially in July and August) occasionally block roads.
Banaue Rice Terraces size and history
Size
The mountainous rice terraces of Banaue and vicinity in the Philippines are mankind's grandest scaled engineering feat. The vertical distance between bottom and top rows exceeds the height of the world's tallest building. If the terraces were laid end to end, they would stretch more than half way around the world.
History
The Banaue Rice Terraces were carved over a 2,000 year span with primitive handtools by the ancestors of the current farmers, the Ifugao tribesmen.
Eroding rice terraces
They are facing erosion because of a decline in upkeep. A big reason is some of the young tribespeople are abandoning their family lands to find less arduous jobs elsewhere.
Getting to the Banaue Rice Terraces
Distance from Manila
Banaue is 350 kilometers (220 miles) from the capital of the Philippines.
Getting there
Unfortunately, you cannot fly to Banaue from Manila. The terrain is too mountainous to construct a local airport. You need to travel by car or bus, which normally takes 8.5 to 10 hours. Heavy traffic and long rest stops will lengthen the time.
Manila-Banaue buses
Many visitors save two travel days by taking the overnight express bus in both directions - and sleep en route. However, those who take the day express bus get to see the interesting rural and mountain scenery along the way. A good compromise is taking one overnighter and one daytimer for your round trip.
Local roads
Challenging
Although you don't need a four-wheel-drive vehicle to travel from Manila (the highways are paved all the way), you will need one when you arrive. Otherwise, you won't be able to travel the scenic rutted dirt roads to visit the Banaue Rice Terraces beyond the town.
Solutions: Take a commercial jeepney - or hire a small one with driver. I don't recommend using motorized tricycles. Although they are much cheaper, the ride will be excruciatingly slow and jarring on the rough mountain roads.
Other Banaue Rice Terraces tips and insights
Most popular viewpoint for the Banaue Rice Terraces
It's a 10-minute ride up the road to Bontoc from the Banaue town center and has a spectacular vista. Be sure to stop also at the other roadside viewpoints along the way - each offers a different and exciting perspective.

Best photo months
From mid-March to mid-May, it's harvest time. The Banaue Rice Terraces landscape will be a combination of vivid greens and golden yellows.
Accommodations
The town of Banaue has a variety of inns and guest houses to suit most pocketbooks. The Banaue Hotel has the best facilities and is reasonably priced.
Temperature
This mountainous area is much higher in altitude than most of the country. Nights can be sweater-cool even on hot and humid days
Ethnic festivals
The region has many festivals. The Imbayah in Banaue town is the biggest one. It's held every several years. see photos:
Batad and Bangaan
Technically, they are geographically distinct from the Banaue Rice Terraces. However, in the tourism industry, the general "Banaue Rice Terraces" term often encompasses nearby rice terraces, including those of Batad and Bangaan.
Getting to Batad & Bangaan
Reaching them from Banaue is not a piece of cake
The journey entails a bumpy, jerky drive over rutted dirt roads. Then, you must hike the final legs. But the rewards are worth the effort.
Be aware that heavy rains can cause landslides and muddy conditions that make the roads impassable. This occurs mostly in the middle of the wet season, from June to August.
About Batad
Pronunciation
bah-TAHD
Setting
Its extensive terraces cling to a grand amphitheatre-shaped slope. The small Batad village sits at the bottom.
Visitor fitness
Those traveling to Batad should be fit hikers.
Accommodations
Most travelers wisely stay over in Batad rather than making a daytrip. There are casual inns with breathtaking views of the rice terraces. You can book them when you arrive.
Nearby attractions
The village is also a good jumping-off place for exploring other remote settlements and rice terraces. And, you can simply take a 2-hour trek to Tappiya Falls.
Traveling to Batad
The drive from Banaue to the Batad Junction (see guide map) takes about one hour. Driving up the road extension from the junction to the trail head at the Saddle ridge consumes another half hour or, if you have to hike it because the road is washed out or blocked by landsides, one hour. From the Saddle it takes the average hiker about 1.5 hours to reach Batad.
Return trip from Batad
It is much more strenuous and time consuming than getting there because you have to trudge up the steep mountainous path from Batad to the Saddle. It can be hot and humid in midday.
About Bangaan
Pronunciation
bahn-NAH-ahn
Setting
Bangaan, like Batad, has an amphitheater-shaped rice terrace slope, though on a less grand scale.
Easier to visit than Batad
I recommend Bangaan to travelers who are unable to visit Batad because of time or fitness limitations. Bangaan is also a must-see for those who have been to Batad.
Best photo vantage
It is from the road, just before you reach Bangaan (see my photo).
Final leg
It's an easy 15-minute hike from the road down to the Bangaan village.
Accommodations
Local, basic lodging is available. Or, you can visit Bangaan as a daytrip from Banaue.
Other attractions near Banaue
They include:
Mayoyao
It has stone-wall rice terraces (most other areas have clay walls).
Poitan Village
This settlement is known for its artisan weaving and wood carving.
Guihob Natural Pool
The cold mountain-spring pool is a refreshing dip on hot-humid days.
Sagada
It's renowned for its hanging coffins and many caves. Note: This destination is too far from Banaue for a daytrip.