Bora Bora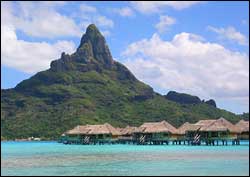 Why Bora Bora is special
The Polynesian island Bora Bora in the South Pacific is widely touted as the most strikingly beautiful island in the world.
Setting
Volcanic island
Essentially, Bora Bora is a crumbling core of a tall extinct volcano that is surrounded by a tropical emerald-turquoise lagoon, which in turn is ringed by a string of islets, which in turn is surrounded by coral reefs.
Two main peaks
Bora Bora is dramatically crowned by two rugged volcano-core peaks draped with lush tropical foliage. One is as tall as a modern 200-story building..
Best time to come
Trade winds keep the climate balmy year-round
However, the ideal visiting time is from May to September when sunny days abound.
Getting there
Popular route
To reach this island paradise, most visitors take an international flight to Tahiti. From there, it's a 45-minute flight to Bora Bora.
More Bora Bora tips and insights
Romantic
This travel destination is a mecca for honeymooners, anniversary celebrants, and other amorous couples in the high-budget category.
Tourism
Yes, through the years between my first visit (1970s) and latest visit (2008), Bora Bora has become more touristy, but with less negative effect than some writers say. The natural beauty and setting are too spectacular to be ruined by waves of tourists.
Over-water bungalows
Bora Bora is known for its over-water bungalows on stilts (see photo above ). Today, many of the high-end resorts offer them.
Activities
A sampling of the variety that awaits you:
Relaxing
You will enjoy lovely white sand, palm-fringed beaches for lounging and swimming.

Watersports
Snorkeling and diving are popular. You can also see the lagoon's colorful tropical fish on a glass bottom boat.

Touring
Travel its 32-kilometer (20-mile) coastal road that circles the island. You can do it by car, motorbike, bicycle, or - as I did - on foot. It is an unforgettable experience.

Dining and more
Bora Bora is part of French Polynesia, which is an overseas territory of France. You will quickly see this connection in language, food and other cultural influences.