British Museum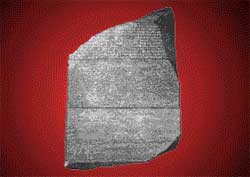 Why the British Museum is special
The British Museum in London, England exhibits a wealth of cultural masterpieces including famous antiquities and historic documents.
The British Museum is one of the world's most popular museums - it attracts about six million visitors per year. The three most celebrated crowd-pullers are the:
Elgin Marbles

Rosetta Stone
Great Court
Elgin Marbles
Their original home
These ancient Greek sculptures once adorned the Parthenon in Athens. In the nineteenth century, Lord Elgin shipped them to England.
Controversy
The Elgin Marbles have embroiled the British Museum in a growing controversy. A number of individuals and cultural organizations argue that the museum should return these artistic masterpieces to Greece because Lord Elgin "stole" them (that is, he took them without obtaining proper approvals from the Greek government and people).
Rosetta Stone
Hieroglyphics decoder
The 2200-year-old Rosetta Stone (see photo above) stands only one meter high but is of towering significance. Its discovery in 1799 enabled archaeologists to decipher the hieroglyphics chiseled on ancient Egyptian temples. This was possible because an identical message is repeated on the Rosetta Stone using three different written languages. One of them is hieroglyphics. Because the archaeologists knew the other two, they learned how to interpret hieroglyphics.
Great Court
Attention grabber
The Eye-catching Queen Elizabeth II Great Court is a sizable courtyard covered by an immense curved glass ceiling and lined with Greek-facaded museum galleries.
Reading room
The Great Court's focal point is the Reading Room edifice, which dramatically rises from the middle of the courtyard.
This round structure houses a large, old-fashioned research library boasting a high-domed ceiling and long tables fanning out from the room's hub like wagon-wheel spokes. The ambiance is invitingly traditional.
Use of this famous room was once limited to the few, but is now open to any museum-goer for walk-around sightseeing or for casual or serious reading at tables once used by celebrated writers and scholars.
Magna Carta is gone
It has a new home
This renowned 13th century document of freedom had long been one of the top draws of the British Museum. The Magna Carta was recently relocated permanently to the British Library.
Location in England