Burj Khalifa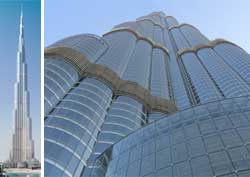 Why the Burj Khalifa is special
The elegant, tapering wonder in Dubai is the world's tallest building. This architectural triumph soars 822 meters (2617 feet) into the sky, 60% higher than our earth's second tallest building.
Burj Khalifa world records
It set many records. The most significant is that it is the highest structure ever built
More Burj Khalifa tips and insights
Windows
There are nearly 25,000 - a window-washer's nightmare.
Coincidence?
Modern "world highest" structures have a propensity to be planned during boom years, but completed during economic downturns. This includes the Burj Khalifa (Global Recession) and Empire State Building (Great Depression).
Timeline
Construction began in 2004. It officially opened in 2010 with great fanfare of a light show and fireworks.
Name
The skyscraper was originally called Burj Dubai (burj means "tower" in Arabic). It was renamed to honor Sheikh Khalifa, the ruler of oil-rich Abu Dhabi. That sister emirate state helped bail out the struggling Dubai economy in 2009 with billions of dollars in financial aid.
Cost
The building cost 1.5 billion US dollars to build. It is the focal point of a vast in-development office-and-residential building complex that will eventually cost 20 billion US dollars.
World Records set by Burj Khalifa
Highest structure ever built

Warsaw Radio Tower
Highest building

Taipei 101 (Taiwan)
Highest freestanding structure

CN Tower (Canada)
Most floors
160 are habitable (that number is the one to use for the record). In addition, there are inhabitable floors used for mechanical purposes (such as air conditioning equipment). If you count those, there are 206 floors.
Highest observation deck
The Khalifa Observatory is on the 124th floor, giving you a 100-kilometer (60-mile) view on a crystal clear day.
Highest restaurant
Prices in the 122nd floor Atmosphere restaurant are sky high, too.
Fastest elevator
It takes just 60 seconds to reach the 124th-floor observatory - and the ride is virtually silent. Besides speed, the elevators travel the greatest vertical distance in a building.
Other
highest
world records include swimming pool, mosque, living space, office space, and broadcast station.
Burj Khalifa floor functions
Basement 1 & 2 Parking and mechanical Ground Hotel and Concourse
1–8 Hotel
9–16 Residential
17–18 Mechanical
19–37 Residential
38–39 Hotel suites
40–42 Mechanical
43 Sky Lobby
44–72 Residential
76 Sky Lobby
77–108 Residential
109–110 Mechanical
111–121 Corporate Suites
122 Restaurant
123 Sky Lobby
124 Observatory
125–135 Corporate Suites
136–138 Mechanical
139–154 Corporate Suites
155 Mechanical
156–159 Communication and Broadcast
160–206 Mechanical
All the approximately 1000 apartments are luxury class, as are the many rooms and suites in the hotel. The spa, restaurants and stores are upscale. And the office floors are state of the art.
More Burj Khalifa tips and insights
Temperature variance
The Burj Khalifa is so high that the air temperature on the top of the building is noticeably colder than on ground level.
Building framework
While modern skyscrapers commonly have steel-frame structures, the Burj Khalifa mainly has a heavy reinforced concrete structure for added strength
Location in Dubai