Carnival in Rio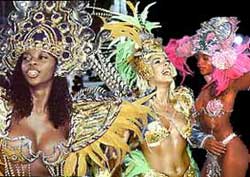 Why Carnival in Rio is special
Carnival in Rio has been called the world's most famous party. A million tourists join millions of Rio de Janeiro citizens ("cariocas") in enthusiastic revelry spanning several days.
Carnival of Rio highlights
Top three
The Sambodromo parade (described below) is number one. Close runners-up are the street processions and masquerade balls.
Sambodromo parade
Setting
The Sambodromo is a 700-meter (half-mile) long parade strip flanked by spectator stands and luxury boxes.
The sounds and sights of the parading samba schools that go on from dusk to day break.
Tickets
On the Sunday and Monday nights before Lent, the seats are filled with over 60,000 eager on-lookers. Tickets cost up to hundreds of dollars each and sell out quickly.
Samba School defined
A samba school has nothing to do with education. It is typically a group from a poor neighborhood organized to produce a lavish Carnival of Rio procession - for the fun of it.
Selective
Only the best 14 samba schools parade through the big-time Sambodromo (the rest conduct street processions during Carnival of Rio).
Keen Carnival in Rio competition
Every samba school strives to be judged the best overall.
Slow moving
It can take over an hour for a single samba school to pass a given point along the parade route.

Carnival in Rio floats
Each samba school has showy floats, which are often adorned with sensuous females vibrating to the hypnotic music.
Bands and singer-dancers
The floats are accompanied by marching samba bands numbering up to 300 musicians - their drummers ceaselessly pound the contagious samba beat that helps define the Carnival in Rio. All are escorted by a sea of flamboyantly or scantily clad singer-dancers.
Concerted effort
These diverse parade elements must work as a single unit, dramatizing the same theme, which the samba school changes annually for the Carnival in Rio.
Other Carnival in Rio insights
Preparation
A school can have up to 4,000 participants, so melding the ensemble into an organic whole is no easy task. The preparation requires nearly a year of sewing, building, composing, choreographing, and rehearsing for the next Carnival in Rio.
Labor of love
Samba school participants pay for their own costumes, which cost some of them a sizable slice of their income. They willingly do this because Carnival in Rio is a fantasy escape, which helps them forget their hardscrabble lives.
Street processions
Some samba schools are not invited to partake in the Sambodromo parade. Many take to the streets during the Carnival in Rio. Some parade in their neighborhoods and downtown Rio.
Their festivities are free public affairs - passers-by may join the fun by dancing behind (and sometimes with) the group's samba dancers and marching bands. Here you directly participate while in the Sambodromo seats you mainly observe.
Masquerade balls
These are the Carnival of Rio's celebrity-attended affairs. The merrymakers wear designer costumes and party from before midnight to the wee hours. It's an exciting and energetic experience (but admission costs up to $200 and the ballrooms tend to be jam-packed). The ball at the Copacabana Palace Hotel is the most famous.
Location in Brazil