Chartres Cathedral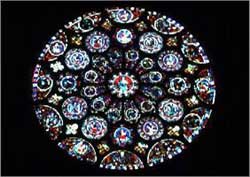 Why Chartres Cathedral is special
This magnificent medieval Gothic cathedral in France has nearly 200 bright-hued stained glass windows dating back to the 12th and 13th Centuries.
Chartres Cathedral tips and insights
Renowned windows
The huge roseate windows (see photo) above the cathedral's main entrances are particularly spectacular and justifiably world famous.
Flying buttresses
The extensive windowing would have been impossible were it not for the newfound flying buttress construction method. It lowered the load-bearing responsibilities of the Chartres Cathedral walls, allowing them to be taller and full of sizeable holes for the windows
Sculptures
The outdoor sculptures of Chartres are almost as famous as the stained glass windows. They adorn the edifice's exterior around the doorways.
Day tripping
Most visitors come from Paris on day tours. This wonder is located in its namesake city, Chartres, just about 100 kilometers (60 miles) southwest of Paris.
Location in France