Fjords of Norway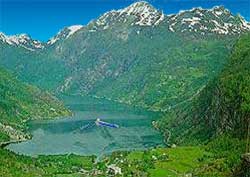 Why the Fjords of Norway are special
Glaciers slowly carved the Fjords of Norway out of hard-rock coastal mountains. The resulting narrow fjords are walled in by incredibly steep cliffs, verdant slopes and snow-capped mountain tops.
To get a sense of scale, note the boat in the photo. It may look like a modest yacht but is a large ocean-going ship.
Top 5 Fjords of Norway
Sognefjord
If you have time to visit only one fjord, let it be Sognefjord, which is only about 70 kilometers (45 miles) north of Bergen. It stretches 204 kilometers (125 miles) inland, has stunning fjordscapes, and small villages.
Naeroyfjord
It's one of the arms of Sognefjord. Naeroyfjord, is a tourist favorite because of its narrowness and skyscraping cliffs.
Geirangerfjord
It is much farther north of Bergen (and is much shorter in length) than Sognefjord, but is worth the journey. Many Norwegians consider it to be their country's most beautiful fjord. It is blessed with many tall, cascading waterfalls (the Seven Sisters is the most striking). Partially because of its significant depth, Geirangerfjord is a pet among the large ocean going cruise ships.
Lysefjorden
It is famous for Pulpit Rock, an outlook with the grandest view in the Fjords of Norway region. It requires a long uphill hike. Standing at the edge of Pulpit Rock, you look 600 meters (2000 feet) straight down into a majestic fjord. Lysefjorden lies south of Bergen.
Hardangerfjord
Its fjordscape is dramatic, but less so than those of Sognefjord and Geirangerfjord. However, its low lying farms, orchards, and grazing slopes lend a lovely rural touch to the landscape. Hardangerfjord is south of Bergen.
Fjords of Norway - how to see them
Cruising
Most visitors see the Fjords of Norway in vessels ranging from small sightseeing craft to luxury cruise ships. You can also travel on the frequent ferries that link the semi-isolated coastal towns. Cruise ships give passengers an awesome sea-level perspective.
Hiking
Trails lead to lofty vantages that most boat passengers miss. The paths vary from short and easy to long and challenging.
Flightseeing
Board an airplane or helicopter sightseeing flight out of Bergen, the gateway city to the Fjords of Norway.
Railing
The scenic mountain train trip from Bergen to Flam takes you to the upper reaches of Aurlandsfjord. The railroad's leg between Flam and Myrdal is especially scenic, with waterfalls and alpine-like vistas.
More Fjords of Norway tips & insights
Creation
It took many ice ages in a 3-million-year period for glaciers to carve the fjords as we see them today. The most recent ice age ended about 10,000 years ago.
Gulf Stream influence
The southern Fjords of Norway seldom freeze over because of the Gulf Stream, which brings warm water across the Atlantic Ocean from the tropics of the New World.
Measurements
The deepest point of the Fjords of Norway is 1300 meters (4300 feet) below sea level. Widths can reach 3 kilometers (2 miles). Both records belong to Sognefjord.
Shoreline length
Norway is a land of fjords, inlets, bays and islands. If you stretched out its coastline, it would reach half way around the world.
Top 3 Fjords of Norway
1. Sognefjord
Geographically, it's the world's second longest fjord (204 kilometers or 125 miles). And Sognefjord is the world's deepest and most popular one.
2. Naeroyfjord
It's an arm of the Sognefjord and is celebrated for its soaring, narrow-spaced cliffs.
3. Geirangerfjord
Tall, cascading waterfalls are its chief draw. The Seven Sisters is the most spectacular.
Next best
Lysefjorden and Hardangerfjord rank fourth and fifth.
When to go on a Fjords of Norway cruise
Points to consider:
Mid-May to mid-September
The prime Fjords of Norway cruise season.
Mid-June through August
The warmest prime-season period.
May
Blooming wildflowers and blossoming fruit trees attractively adorn the landscape.
Soltice
The weeks immediately before and after the summer solstice (June 21) have exceptionally long daylight hours for sightseeing.
Helpful Fjords of Norway tips & insights
Cruise ship vs road sightseeing
Although you can see the Fjords by train, bus or car, you will see far more on a cruise ship.
Fjord cruising vs ocean cruising
One big difference between ocean and fjord cruising is you are almost always close to landscapes.
Cruisers vs hikers
While cruisers see the fjords at sea level, hikers get an eagle's eye view from the top of high cliffs. Some cruises give you enough shore time for hitting the trails.
Flam Railway
This mountain train offers one of the most scenic train rides on earth and attracts many tourists. It connects Myrdal in the mountains with sea-level Flam on the Sognefjord. The Flam Railway route is short (20 kilometers or 12 miles) and has a relatively steep grade (the elevation difference between Flam and Myrdal is 866 meters or 2841 feet).
Origin
Fjords were carved out of the mountains by ancient glaciers. Ocean water filled the space when the glaciers retreated, land sank, and sea levels rose.
Gulf Stream
This current from the Caribbean makes the temperatures along the Norwegian coastline higher than they would normally be this far north.
Expensive country
Norway is one of the most expensive places to visit in the world. Even a glass of beer has cost shock.
Other Fjords of Norway cruise tips & insights
Cruise areas
Most cruises stick to the southern Norway fjords (see map below) because they are the most popular. Other cruises do include some northern Norway destinations in their itineraries (especially in the North Cape and Svalbard Islands). Some cruises even add Iceland.
Ports of call
Bergen is the gateway to the Fjord region. Its old town and harbor are interesting. However, except for their surroundings, the other ports have middling tourism appeal, so don't expect much. And you shouldn't. The allure of western Norway's coast is its stunning natural scenery, not its villages and towns.
Cruise ships
Many major cruise lines operate Fjords of Norway cruises. The Norwegian Hurtigruten company runs the most.
Cruise durations
The range is several days to weeks. Seven days is common.
What to wear
Dress in layers. For shore excursions, wear good-traction shoes, dress casually, and bring raingear (rain in common). Dinner code is smart casual.
Location