Forbidden City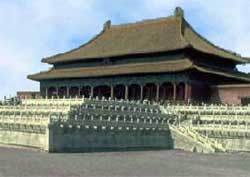 Why the Forbidden City in Beijing is special
For nearly 500 years (1420-1911), twenty-four emperors of the Ming and Qing Dynasties ruled China from inside the Forbidden City. It has lavishly decorated ceremonial halls and royal palaces that were built to impress the eye.
Forbidden City tips and insights
Emperors
The emperors who lived within the massive walls seldom ventured outside.
Palace intrigue
It was rampant. So were internal political power struggles.
Names
The compound has three appellations:
Public Museum
New official name

Imperial City
Old official name

Forbidden City
The nickname, which most travelers use today
Meaning of "Forbidden City"
The complex gained its ominous sounding sobriquet because entry was once strictly prohibited without royal authorization. A visit without that sanction would automatically cost your life.
Physical condition
The Forbidden City is in much better condition today than it was on my first visit several decades ago. The government has been making a major effort in renovating the palace, bringing it back to its former architectural grandeur.
Mammoth
The Forbidden City in Beijing is huge by any standard:
Size
It measures 960 meters (3200 feet) by 750 meters (2500 feet). That's equivalent to over 20 football fields.

Walls
The palace is surrounded by a thick, 10 meter (33 foot) high defensive wall that is in turn surrounded by a moat as wide as a river.

Rooms
The rooms in the Forbidden City once numbered 9,999 (nine is a lucky digit).
Largest and most famous structure
The Hall of Supreme Harmony (see photo) wins that honor. Imperial ceremonies were held here.
Population
In its heyday, some six-thousand people lived in the Forbidden City. This included the emperor and his royal family, and his concubines, servants and eunuchs (who were prolific instigators of royal intrigue).
Final emperor resident
He was Puyi, the young male depicted in Bertolucci's 1987 epic, "The Last Emperor." Puyi was permanently evicted in 1924.
Suggested length of visit
The Forbidden City is so expansive that I recommend you reserve a minimum of a half day on your first visit just to become acquainted with it. Then return to absorb the details.
Location in China