Great Barrier Reef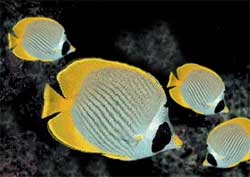 Why the Great Barrier Reef is special
Size
The Great Barrier Reef stretches 2300 kilometers (1400 miles) in the Coral Sea along Australia's northeastern coast.
Formations
There are 3,000 coral reefs plus many islets, atolls and coral cays.
Wildlife
The Great Barrier Reef supports 10,000 species including 1500 types of fishes and 200 kinds of birds. Other inhabitants include whales, dolphins and sea turtles.
Underwater spectacle
The sheer beauty of its fish and coral waterscapes draws two million tourists annually who come to see the underwater spectacle via diving, snorkeling and glass-bottom boating.
Great Barrier Reef ecological threats
Vulnerable
This complex and delicate eco-system can be easily damaged or even destroyed.
Visitor impact
Great Barrier Reef conservationists fear that the large influx of visitors and their collateral effect on pollution are damaging the very natural wonder that people come to celebrate.

Overfishing and pollutants
Culprits include boats, farms, ranches and industry.

An even greater threat
Many scientists see an even greater threat: Global Warming. It's unlikely that the Great Barrier Reef of Australia would survive if the water temperature rose by 5% or so over its current average.
More Great Barrier Reef tips and insights
Water clarity
Except during the polyps spawning season or after a storm, the Great Barrier Reef water is crystal clear. This makes underwater viewing superb.

Getting to the Great Barrier Reef
Most visitors reach the Great Barrier Reef from the mainland port of Cairns (see map below).
Acommodations
Some visitors lodge in one of the Great Barrier Reef island resorts. Others live on cruise yachts (popular with snorkel and SCUBA diving enthusiasts). Still others take daytrip excursions out of Cairns.
Location in Australia