Great Wall of China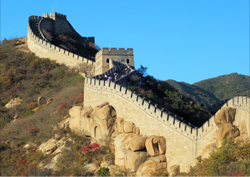 Why the Great Wall of China is special
It is by far mankind's most extensive construction endeavor. In its heyday in the 16th and 17th centuries, it snaked 6400 kilometers or 4000 miles across northern China (see map).
The 4 most popular Great Wall of China sites
Below are the four most visited Great Wall locations. All are near and north of Beijing:
Badaling
This is by far the most popular Great Wall of China site for travelers, mainly because it is close to Beijing (less than two hours away) and is much easier to climb than the other Great Wall sections.
The Badaling section was built around 500 years ago - and was extensively renovated by the present Chinese government over the last several decades.
Be mindful that Badaling swarms with tour groups, individual tourists and hawkers - and has become somewhat tacky. This could taint your photographs and memories of an otherwise visually striking Great Wall of China site.
Mutianya
It is an hour farther away from Beijing than Badaling. This is a blessing - the extra travel time means that fewer vacation tour groups will travel to it. This Great Wall of China site is remarkable. The incline of the wall at Mutianya is noticeably steeper than Badaling's. However, like Badaling, Mutianya has a cable car for tourists who choose not to walk up the wall.
Simatai
You must travel yet another hour to reach the Simatai site from Beijing and, therefore, you will encounter even fewer vacationers than at Mutianya. Some of the wall dramatically clings to precipitous mountain ridges. Because the incline is especially steep and there is no cable car, I do not recommend the Great Wall of China site at Simatai for those not in good physical condition.
Shixiaguan
This is the closest section to Beijing. The Shixiaguan section is currently being reconstructed but is open to the public. You can view it from your vehicle as you drive to the Badaling section (see above). Or, you can stop and climb it. However, be aware that the Shixiaguan wall ascends a long, very steep slope.
Best times for visiting the Great Wall of China
The best periods
Go in the early morning or late afternoon when sightseeing buses are relatively scarce. And, the low-angled sun rays help make great photographs. Crowds can be thick from mid-morning to mid-afternoon.
The best 2 months
May
Usually sunny (though you could encounter occasional rains). Wild flowers are abloom. Vacation travel season has begun, but modestly so.


October
Usually sunny (and even less chance of rain than in May). Moderate tourist count. Fall temperatures are brisk, but refreshing and comfortable, making it a pleasant time to travel to the Great Wall of China.
The next best months
June to September
Although summer is the rainy, humid season and the vacation tour season is in full swing, it's better to visit the Great Wall of China then than during the winter (see next item) or not at all.
The least desirable months
November to April
You'll share the Great Wall of China with few tourists. And, it's the dry season. However, the weather can be bitterly cold and biting, especially in January and February.
Location Map