Hagia Sophia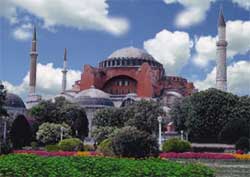 Why the Hagia Sophia in Istanbul is special
Modern-day architects marvel at how their 6th century counterparts could design the immense Hagia Sophia and its "impossibly" high-and-wide domed ceiling.
The Hagia Sophia was first a church then a mosque then a museum
Church
532 to 537 AD
The structure was built by the Christian Emperor Justinian I as a Byzantine church. It served as a Byzantine church for the next 900 years.
Mosque
Beginning in 1453
The Islamic-faithed Ottomans took over Constantinople (now Istanbul).

They wasted little time in converting the Hagia Sophia into a mosque. It served the Muslims for almost 500 years.

During this time, the Ottomans painted over the Christian mosaics - and erected the four defining minarets we see today.
Museum
1934 to present
Turkey changed the Hagia Sophia's status from mosque to museum and uncovered the priceless Byzantine mosaics.
More Hagia Sophia tips and insights
How to pronunce
Hagia Sophia = HEY-yah soh-FEE-ah
Optical illusion
Forty windows ring the base of the 16-story-high dome, making it seem to upward-gazing viewers 16 floors below that the dome is levitating.
Huge
Photos could never give us a sense of that illusion or of the hugeness of the Hagia Sophia's internal space. We have to see this 1400-year-old wonder in Istanbul, Turkey firsthand.
Physical condition
Parts of the Hagia Sophia building are currently in regrettable condition due to centuries of neglect. A major effort is afoot to save and restore this masterpiece of the ages.
Blue Mosque
Don't miss the Blue Mosque, a neighbor of the Hagia Sophia. Its exterior architecture is elegantly beautiful. It's a working mosque, but non-Muslims can visit it during non-prayer periods.
Location in Turkey