Hong Kong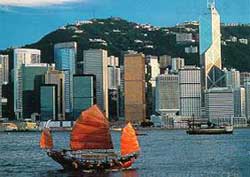 Why Hong Kong is special
World travelers have long been seduced by the views of Hong Kong harbor and city – and with its many specialty restaurants and shops. The harbor teems with incessant nautical activity and is back dropped by a spectacular cluster of skyscrapers.
Hong Kong's 3 best viewpoints
To be fully appreciated, this wonder must be seen from three distinct vantages - Victoria Peak, boat, and Kowloon:
Victoria Peak
The best panoramic view of Hong Kong is from the top of the 552-meter (1800-feet) high Victoria Peak. It is the tall peak in the photo. You see Hong Kong harbor laid out before you - and as you look directly down, your eyes capture a spellbinding foreshortened view of Hong Kong's skyscrapers. The view is virtually 360 degrees - you also catch sight of the South China Sea and some of the region's outlying islands.
Boat
The most popular boat vista is from the decks of the unpretentious Star Ferry ships that travel between Hong Kong's central business district and nearby Kowloon city on a frequent schedule. Daytime ferry rides provide a splendid view of the modern skyscrapers - and let you observe up-close the harbor activity. The evening harbor-light view is, in a word, romantic.
Kowloon
You simultaneously see the harbor and Hong Kong skyscrapers while strolling along the waterside promenade of Kowloon, the city across the harbor from Hong Kong. Some of Kowloon's hotels also offer harbor views.
When to come
Best months for Hong Kong
For its best weather, visit Hong Kong from October to mid December - usually the skies are clear and the temperature, comfortable. The weather can be hot, humid and rainy in the summer, and a tad chilly in January and February.
More Hong Kong tips and insights
Victoria Peak
Although you can take a taxi to Victoria Peak, the 8-minute ride to the top on the funicular railway called the Peak Tram is an experience not to miss. Your cable car climbs a remarkably steep incline as you face backwards toward the harbor. Tip: Visit Victoria Peak only when it's visible from central Hong Kong below - otherwise, you may not see the city below. The time for viewing the glittering skyscrapers at night are workday evenings (lights are kept on for the cleaning crews).
Restaurants and shops
Hong Kong is world renowned for its restaurants and shops. They jointly win my bronze medal.
Skyscrapers are densely packed
Reason: The acute shortage of flat land in the commercial district.
Highest skyscraper
It's Two International Finance Center. It has 88 floors and is 412 meters (1352 feet) high, making it one of the tallest buildings in the world.
Dwindling harbor
The distance from Kowloon to Hong Kong has been shrinking because of landfill projects (a controversial subject among Hong Kongers).
Early days
Before the skyscrapers and hectic harbor traffic, Hong Kong was a quiet fishing village.
Location in China