Iguazu Falls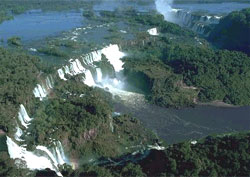 Why Iguazu Falls is special
It significantly dwarfs Niagara Falls. Iguazu Falls stretches along a 3 kilometer (nearly 2 mile) long rim that is shared by Argentina and Brazil. I was flabbergasted watching it thunderously plunge the height of a 24-story building into the Iguazu gorge below.
Which is best, the Argentine or Brazilian side of Iguazu Falls?
Both have their pluses
The Argentine side has the best and most varied up-close views of Iguazu Falls while the Brazilian side has the spectacular panoramic view. My best advice: See both.
Best time for sightseeing
Defining "best" depends on your priority. There are significant trade-offs:
If you want to experience Iguazu Falls at its full might
Go during the rainy season (normally the rain is heaviest from around December to February). However, you might encounter cold and dreary days as well as sightseeing trails that are occasionally closed due to rain damage.
If you want warm, blue-sky weather
Go during the dry season (typically from April to July). Unfortunately, Iguazu Falls noticeably dwindles in strength. If you are very unlucky, Iguazu Falls may be completely dry (which occurs for a week or more every several decades or so).
If you want a compromise
Visit Iguazu Falls in March, August or September.
More Iquazu Falls tips and insights
How Iguazu Falls compares with other great falls
Iguazu Falls (which ranks 9 among the world's top wonders) is rivaled in mightiness only by Victoria Falls in Africa (ranks 15). The world's other two gold medal-winning falls are Angel Falls (ranks 79) and Niagara Falls (88).
Iguazu Falls' top attraction
Of all the many tall cascades that collectively make up Iguazu Falls, the semi-circular Devil's Throat is by far the most awesome. It is the world's mightiest single water fall (in terms of water-flow volume) - and its incessant roar is deafening, to the point of being terrifying.
Recommended length of stay
Most visitors to Iguazu Falls fly in from either Rio de Janeiro in Brazil or Buenos Aires in Argentina. Some do it as a day trip. I strongly suggest staying at least two days - one to explore the Argentine side, the other, the Brazilian side.
Spellings
Argentines spell this wonder, "Iguazu", the Brazilians, "Iguacu." Both versions are globally correct and widely used.
Location Map