Li River Cruise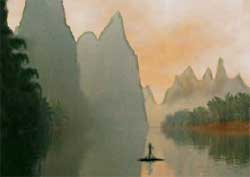 Why the Li River Cruise is special
The Li River boat trip is one of our planet's most stunningly beautiful journeys. The smooth water exquisitely mirrors a fairy-tale landscape of conical peaks reaching for the sky (see photo). These limestone peaks are the vestiges of eroded ancient sea beds.
Li River tips and insights
Pronunciation
The word Li is pronounced lee.
Passing scenery and activities
There's something interesting to see from your Li River cruise boat along the banks of almost every bend of the river. You view graceful bamboo groves, farmers tending rice paddies, and lumbering water buffalos pulling carts or cooling off in the river.
Fishermen
Another interesting sidelight is seeing fishermen gliding on the Li River on narrow bamboo rafts. Some use tethered cormorant birds to catch fish.
Mist
The Li River vista is particularly mystical when flowing mists weave themselves around the peaks. The vapor hides then exposes the peaks in moments of surprise.
Tour boats
There are dozens of tour boats, each about the size of a medium-sized tug boat. They head down the river from Guilin to Yangshou city in a conga line, one closely following the other.
Onboard
The tour boats have open decks for observing the scenery and indoor tables for sitting and eating lunch (the boats have small outdoor kitchens stretched across their sterns).

Low-water Plan B
When water levels are low, the cruise tours begin their journey halfway down the Li River cruise route, not in Guilin.

Return trip
After your tour ends in Yangshou, you return to Guilin by bus (an hour-long trip on a paved road).
Yangshou
Select a tour that gives you ample opportunity to explore on land the beautiful Yangshou countryside before heading back to Guilin. For a more comprehensive visit to the countryside, stay a night or two in Yangshou.
Reed Flute Cave
Before or after your Li River cruise, visit Reed Flute Cave. This major Guilin-area attraction is lit with colored lights and has a cavern room that can hold a thousand people. Reed Flute Cave is a Hillman Wonder bronze medal winner.
Location in China