New York Skyline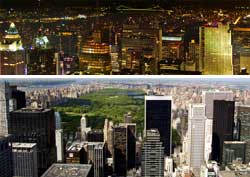 Why the New York Skyline is special
New York City has the world's most recognized skyline. Its buildings soar upward, as if sprouting. This occurs in two Manhattan clusters, midtown and downtown, with a "valley" of low buildings in between.
Top 5 New York skyline viewpoints
Top of the Rock
True, the Empire State Building has higher observation floors. However, the Top of the Rock observation deck on the 69th floor of the GE Building in Rockefeller Center is clearly superior. Unlike on the Empire State Building, you are surrounded by famous landmark buildings, which enhances the vista. And, the view of Central park is fabulous (see bottom half of photo).

Empire State Building
It has two observatories. One is on the 86th floor, the other on the 102nd (currently closed for renovation). Wait lines can be exceptionally long during peak periods.

Sightseeing helicopter
Though the ride is pricey and brief, you get a true bird's eye view of Manhattan.
Staten Island Ferry
You see the Statue of Liberty and Ellis Island, and the lower Manhattan skyscrapers as you sail across New York Harbor. And the ride is free!
Brooklyn Heights Promenade
This casual East River esplanade in Brooklyn offers a fascinating view of the lower Manhattan skyscrapers.
Viewing tips
To enjoy the New York skyline view at its spine-tingling best, you must know both the best times.
During the day
The most sensational daytime views occur on sunny days, particularly in the morning (when looking west) and late afternoon (east).
At night
However, the best evening viewing time is not so obvious. It's incredibly romantic on workday nights but rather humdrum on Saturday, Sunday and holiday nights. Reason: When the New York office workers go home, the lights are kept on for the evening cleaning crews. On non-work nights, the crews stay home and you cannot see the fabled New York curtain of diamonds.
Honorable mentions
Circle Line
Two Circle Line outfits offer a sightseeing boat tour circumnavigating Manhattan.

Roosevelt Island Tramway
Roosevelt Island Tramway This commuter cable car crosses the East River.
World Trade Center tragedy
September 11, 2001
The New York skyline drastically changed that day as the twin 110-floor towers of the World Trade Center collapsed as a result of terrorist attacks. Loss of life was staggering.
Location in America