San Francisco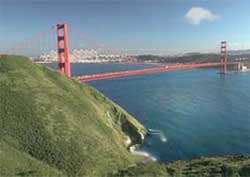 Top 7 San Francisco Attractions
alphabetical
Click a blue link to view my page on the San Francisco attraction.
Alcatraz Island
On the bay lies Alcatraz Island, which is a Hillman Bronze Medal winner. It is the former high-security federal prison for nefarious criminals like Al Capone. Frequent tour boats take you there.
CLICK
Alcatraz Island
Bay/cityscape
Beautiful San Francisco Bay is the world's largest deep-water harbor. It frames the lovely San Francisco city, which was built on 46 hills. This helps create the charming undulating cityscape adorned with mostly small buildings. Skyscrapers have been kept to a reasonable number.
Cable cars
They, too, are a Hillman Bronze Medal winner. They are also dignified as National Historic Monument, a formidable title for these quaint cars. Three lines operate up and down San Francisco's steep hills.
CLICK
San Francisco Cable Cars
Chinatown
One of the two largest Chinese communities outside the Orient. Grant Avenue is the main drag, where numerous restaurants thrive.
Fisherman's Wharf
Tourist restaurants everywhere. Many overlook picturesque fishing boats. Outdoor vendors cook crabs in huge, steaming vats.

Golden Gate Bridge
San Francisco's most famous landmark. It's 60-stories high. Its main span stretches 1300 meters (4200 feet) over water. Though some new bridges in the world have eclipsed its engineering feats, it will always be stunningly attractive.

Lombard Street
Steep, bricked street with eight curves in a single block (descends from Hyde Street).
San Francisco's top 7 photo gallery
See previous page for descriptions of the Top 7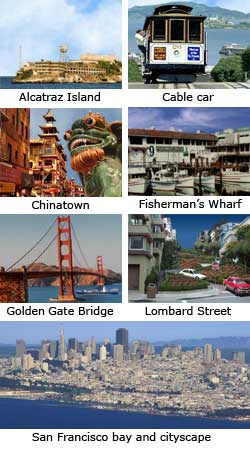 Other interesting San Francisco highlights
Golden Gate Park
Its over 1,000 verdant acres were nothing but sand dunes 100 years ago. Showplaces are the Conservatory and the Japanese Garden.
Ghirardelli Square
Eye-catching array of restaurants and shops set in complex of brick buildings (some were once factories).
Cannery
Similar to Ghirardelli Square, but ensconced in restored warehouse.
Mission Dolores
Sixth of California's chain of missions and the city's oldest building.
North Beach
Bohemian quarter. Note: One area teems with tourist entertainment traps.
More notables
• Coit Tower on Telegraph Hill • Ferry Building • Maiden Lane • Market Street • Oakland Bay Bridge • Presideo • Seal Rock • Twin Peaks • Union Square.
More San Francisco tips & insights
Best views
Outstanding panoramas can be enjoyed from these lounges and restaurants: Carnelian Room, Top of the Mark, and Sky Deck. Other popular vantage points include Alcatraz Island, Fisherman's Wharf, and Marin Headlands (just north of the Golden Gate Bridge). And, you get memorable glimpses of the San Francisco Bay and cityscape as you walk the hill-steep streets or ride the endearing cable cars.
"Frisco"
Never utter that word within earshot of a native unless you relish being given the evil eye. Use the full San Francisco name or simply refer to it as "the City".
Unusual weather
Many summer tourists unknowingly pack shorts for walking around the city. That season tends to be chilly (Mark Twain supposedly said, "The coldest winter I ever spent was a summer in San Francisco").
Fog show
If you're lucky, you'll be in San Francisco when a massive incoming fog bank sweeps over the Golden Gate Bridge and tumbles over city buildings like a gentle tidal wave. It's a phenomenal sight.
Location in America