Serengeti Migration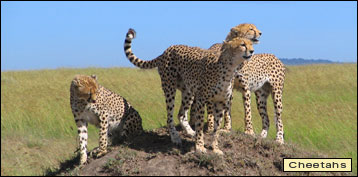 Why the Serengeti is the world's best safari destination
The migration is the reason
Make no mistake about it. Without the migration, I would rank the Serengeti behind these three famous safari destinations:
Ngorongoro Crater

Kruger National Park

Okavango Delta
The annual migration is that grand and mind-boggling.
Serengeti tips and insights
Know when to be where
Be at the right place at the right time. Be where the migratory animals are. Use my animated month-by-month map: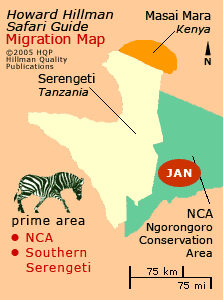 Seasonal changes
The grassy plains dramatically change from season to season, as professional safari photographers know. During and just after the local rains, grasses are lushly green. Then, the land turns a parched yellowish brown.
Size
The Serengeti National Park is one of the world's largest game reserves. This renowned safari destination spreads over 13,000 square kilometers (5,000 square miles), an area greater than some countries.
More Serengeti tips & insights
Landscape
Much of the landscape is dotted with picturesque acacia trees and with occasional massive rocky granite outcroppings called kopjes. However, each Serengeti National Park geographical area has its identifying characteristics.
Southern
Mainly open grasslands

Central
The plains take on a gently rolling contour.

Western
It has both broad forests and open terrain.

Northern
It's a little woodier and hillier than its siblings
The best lodging in the Serengeti National Park
Grumeti Serengeti Tented Camp
Luxury camp.
Secluded setting overlooks beautiful hippo pool graced with floating lilies.
Famous annual wildebeest migratory crossing on the nearby Grumeti River occurs in July.
$$$$
Other major lodges and camps

Singita Grumeti Reserves
Luxury. A private concession (not in the Serengeti National Park, but borders it). Has two lodges and one camp. Each is well-appointed and -situated. $$$$
Kirawira Tented Camp
Luxury. 25 units. Casual-chic furnishings. Site is on hill overlooking an active migratory route. Near the annual wildebeest river crossing. $$$$
Klein Camp
Luxury lodge. Not a camp as name suggests. Lies just beyond the Serengeti park boundary. $$$$
Migration Camp
Luxury tented. Has down-to-earth, not snobby quality. Well situated for viewing peak migration in November. $$$$
Serengeti Serena Lodge
66 rooms. Sits on hill with plain below that swarms with migrating animals (late May to early July). $$$
Serengeti Sopa Lodge
79 rooms. Site looks over gently rolling plains where migrating animals pass from late May to early July. $$$
Ndutu Lodge
32 rooms. Overlooks Lake Ndutu. Short grasses aid wildlife viewing $$$
Lodge
Permanent, non-tent structures.
Tented
Luxury level. The canvas tents are built over permanent foundations.
Tent
More casual. The tents are all canvas and set directly on the ground.
Camp
Venue with tented or tent accommodations.
Rates
$$$$ = high, $$$ = mid-to-high
Location Map