St Mark's Basilica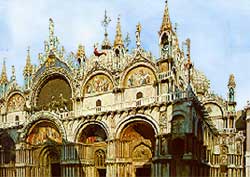 Why St Mark's Basilica is special
St Mark's in Venice, Italy consists of two magnificent structures:
St Mark's Basilica
Top 3 attractions
St Mark's Basilica is renowned for its medieval mosaics, its exquisite golden altar screens embellished with precious gems, and its gilded facade (see photo)
Nickname
St Mark's Basilica is nicknamed "Church of Gold" because of the lavish amount of decorative gold that was used on both the building's interior and exterior surfaces.
History
The present-day church is the third to be erected on the plot in Venice. The original church, a modest edifice, was built to house the stolen remains of the eponymous St Mark
St Mark's Campanile
Description
The Campanile is a freestanding bell tower rising next to the Basilica. Its 95-meter (315-feet) high profile dominated the Venice skyline for centuries.
Collapse
In 1902, without warning, the Campanile collapsed. It has since been reconstructed, faithful to the earlier design.
Observation floor
You can take an elevator up to the top of St Mark's Campanile for a magnificent view of Venice.
Location in Italy