teotihuacan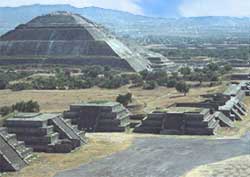 Why Teotihuacan is special
Teotihuacan is an extensive ancient religious complex near Mexico City. Its many architectural marvels include the enormous Pyramid of the Sun (see photo), one of the grandest monuments ever erected.
Pronouncing Teotihuacan
Phonetics
TAY-uh-TEE-wah-kahn
Mysterious origins
Teotihuacan likely dates back to the early 2nd century BC
However, little is known about the ancient people who built it a thousand years before the Aztecs came into power and Cortez arrived.
When to come
Summer
Middays can be sweltering, so come early or late to avoid the heat (and crowds). And early is preferable to late because thunderstorms occur more frequently in the afternoon.
Winter
In the wintertime, the temperature can become nippy and a bit raw.
Getting to Teotihuacan
Near Mexico City
The site is located roughly 50 kilometers (30 miles) northeast of the center of Mexico City. The trip takes an hour by bus or car.
Teotihuacan's top 3 attractions
Pyramid of the Sun
This is the star tourist attraction of Teotihuacan, the one most tourists come to see.
Height
It's as high as a modern 20-story building, making it the tallest structure in Teotihuacan.

Steps
They are steep (though they didn't seem so when I intrepidly climbed them as a kid).

Age
Some archaeologists estimate that the Pyramid of the Sun is at least 2,000 years old.

Original purpose
No one knows for sure its original purpose or to whom the Pyramid of the Sun was dedicated (the "sun" designation was bestowed by the latter-day Aztecs).

Aztecs
They used the top of the Pyramid of the Sun as an altar for sacrificing captives of war to the solar god. The hapless souls were marched huffing and puffing up the 247 steep steps to have their hearts ceremoniously ripped out by a priest and their heartless bodies unceremoniously tossed down the sheer sides of the Pyramid of the Sun.
Pyramid of the Moon
At the far end of the main thoroughfare sits the Pyramid of the Moon.
Size and fame
It's almost as big as the Pyramid of the Sun and would be world famous if the latter didn't exist.

Climbing
Though shorter, it is harder to climb than the Pyramid of the Sun because its step height is appreciably steeper. And you are no longer allowed to climb all the way to the top.

Appellation
It was named by but not erected by the Aztecs.
Quetzalcoatl
This striking Quetzalcoatl archaeological attraction is known for its fanciful serpent sculptures.
More Teotihuacan tips & insights
What to wear
Put on comfortable shoes because Teotihuacan is vast. Even exploring just the highlights requires substantial walking.
High altitutde
The high altitude can make step climbing fatiguing.
Photographing
Teotihuacan is best photographed in the early morning and late afternoon light (for contrasting shadows).
Location map