Uffizi Gallery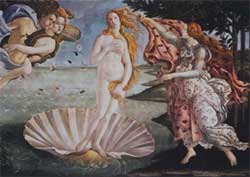 Why the Uffizi Gallery is special
This celebrated museum in Florence, Italy has an unrivaled collection of Italian Renaissance masterpieces.
Uffizi Gallery tips & insights
The must-see paintings
The Uffizi Gallery has many world-famous paintings. Don't miss these:
Birth of Venus (see picture)
Botticelli

Annunciation
Leonardo da Vinci

Holy Family
Michelanglelo

Madonna with a Goldfinch
Raphael

Venus of Urbino
Titian
How is the Uffizi Gallery organized?
The artworks are displayed in a time-line sequence, which gives visitors a feeling for the evolution of Renaissance art.
Museum's history in brief
The Uffizi Gallery is closely linked with the rich Medici Family who ruled the region for centuries. They constructed the building in the mid-1550s to house government administrative offices ("uffizi" in Italian, hence the museum's name).
The Medicis
They were avid fine art collectors. The Medicis began converting parts of the Uffizi building into a gallery for their acquisitions. Their art collection grew with each successive generation into thousands of glorious artworks.
In 1737, the last of the powerful Medicis bequeathed to the public her family's entire art collection.
Location in Italy