Yangtze River Cruise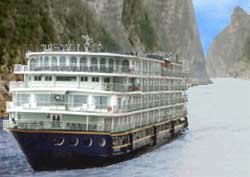 Why a Yangtze River Cruise is special
The Yangtze River cruise offers 3 memorable highlights:
When to go on a Yangtze River cruise
Timing makes a big difference.
Ideal months
April, May, September and October

Usually hot
June to August

Wintry
November to March
Routes and direction
Most popular route of a Yangtze River cruise
It runs between Chongqing and Yichang. The length is 660 kilometers (410 miles) - about 10% of the Yangtze River's length.
Downstream vs. upstream
A downstream Chongqing to Yichang voyage (4 days, 3 nights) costs a little more than its upstream equivalent, but it saves you a day of travel.
The Three Gorges
The Yangtze River cruise passes through three spectacular river gorges in the middle of China.
What you see
Craggy, sheer mountain peaks along the riverside tower up to 1000 meters (3300 feet) above you. And interesting river barges pass by as you sit on the deck.
How the Three Gorges differ
Listings are in downstream order:
Qutang Gorge
It is 8 kilometers (5 miles) long, making it the shortest of the three gorges. It is also the narrowest and has the highest peaks.

Wu Gorge
This one measures 44 kilometers (28 miles). It is the widest gorge, and has the most tranquil surrounding setting.

Xiling Gorge
It's the longest (66 kilometers or 40 miles in length). Before the nearby Three Rivers Gorges dam was built, Xiling Gorge had treacherous rapids, whirlpools, rocks, and shoals that trashed small boats and, occasionally, large ships.
Shore excursion
Cost
They are typically included in the cruise fare. This compares favorably against ocean-going cruises, where they can sometimes be expensive extras.
These are three most popular shore excursions
Lesser Three Gorges
They are scenic tributary gorges with narrow canyons. To see the Lesser Three Gorges, visitors transfer from their cruise ships to mid-size river boats.

Shennang Stream
It is similar to the Lesser Three Gorges, but much smaller and shallower. Visitors transfer to small sampan type boats to travel up Shennang Stream.

Shibaozhai Temple
This 12-story wooden pagoda rests against a tall rock outcropping. You climb up its steep interior stairs. Shibaozhai Temple is a Hillman Wonder Bronze Medal winner.
About the Three Gorges Dam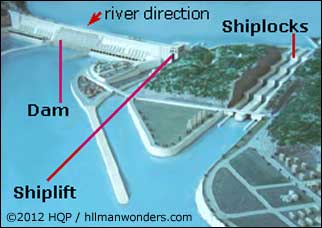 World's largest
The dam is by far the biggest in both size and hydroelectric power generation. It's an astonishing engineering feat.
Three Gorges Dam up close
You pass through its incredibly large locks in your ship. The Three Gorges Dam is a Hillman Wonder Bronze Medal winner.
Negative effect of the dam
Unfortunately, from the tourist's perspective, it is raising the river water level behind it so high that formerly breathtaking rapid currents of the Yangtze River are all but disappearing. And, the water is permanently inundating some scenic and cultural riverside attractions (and forced over a million people to relocate).
Still a lot to see
Much of the stunning natural beauty of the sheer gorges remains. And, the visit to the new dam and its locks have substantially added to the cruise's appeal.
On balance
The Yangtze River cruise is still so exceptional that the sightseeing losses the dam caused should definitely not discourage travelers from making the voyage. Think of the marble statue Venus de Milo. She lost her arms but still is an object of beauty.
Read my Yangtze River Cruise Guide
I created a
Yangtze River Cruise Guide
to introduce you to the cruise options and tradeoffs.