Yellowstone National Park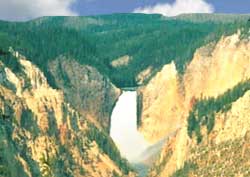 Why Yellowstone National Park is special
It is the first officially designated national park on our planet. And it boasts world-class natural features.
Top 3 natural features in Yellowstone National Park
Each is described in more deail on page two.
The earth's biggest concentration of geothermal features

The majestic Grand Canyon of Yellowstone (see photo)

Free roaming wildlife (including bears and bison)
Best and worst times to visit in Yellowstone National Park
Mid- to late-September
This is the best all around time for a visit as the weather is pleasant and the tourist count is relatively light.
July and August
These are the two busiest months. Be forewarned, traffic jams are common on both the roads and the pedestrian sightseeing boardwalks.
Winter
The least desirable season is winter. It can be quite cold and many roads are snow blocked.
If your time is short
Mini bucket list
If you can only make a short visit, I recommend you see and experience at least these six Yellowstone National Park attractions:
Old Faithful Geyser

Mud pools (various locations)

Grand Canyon (Yellowstone)

Norris Geyser Basin

Hayden or Lamar Valleys (wildlife)

Mammoth Hot Springs
Top 3 natural features of Yellowstone National Park
Geothermal
Old Faithful
Yellowstone has hundreds of gushing geysers. The most famous one is Old Faithful (named for its regularity). It erupts approximately every hour (though not as reliably as it did when I first saw it decades ago).
Other geothermal features
They include bubbling mud pools, hot springs, colorful limestone terraces, and steam spouting fumaroles.
Canyons and waterfall
Grand Canyon of Yellowstone
Though not as grand as the celebrated Grand Canyon of Arizona, the one in Yellowstone is spectacular in its own right. The main canyon is stunning. It is several hundred meters (about 1200 feet) deep and its mighty Lower Falls (see photo) plummets 94 meters (308 feet).

Best month for viewing and sightseeing
The best is May, when the water flow is strongest and, therefore, most dramatic.

Best time of the day
Sunny early mornings and late afternoons optimize the setting by creating accentuating shadows.

Overall best vantage
Artist Point (aptly named) is the choice viewing spot.
Wildlife
Protected habitat
Yellow National Park is a protected habitat for bears, bison (American buffalo), wolves, elk, to name but four of many types of wild beasts. You see them along the roadside from your car.
Massive, active volanco
Geology
More than a half million years ago most of the park area was one of the world's biggest volcanoes. It exploded and its walls collapsed, creating a caldera basin measuring roughly 50 kilometers wide by 70 kilometers (30 to 45 in miles). Most of today's Yellowstone sits on that caldera.
Still active
The subterranean part of the volcano remains dynamic. It manifests itself by generating the heat responsible for creating the park's many geysers and other geothermal features. It also produces Yellowstone National Park's many earthquakes.
Future eruption
Geologists say that volcano is now showing preliminary signs of emerging and erupting again (though they believe that those events are unlikely to occur in our lifetimes).
Backpackers
Yellowstone National Park is bliss for backpackers
It offers 1500 kilometers (almost a 1000 miles) of trails and several hundred campsites, many in spectacular backcountry settings.
Tourists
Tourist count
Yellowstone National Park annually draws roughly 3 million visitors.
Size
This natural reserve covers nearly 9,000 square meters (3500 square miles) - and spreads into three northwest USA states (over 90% lies in Wyoming).
Altitude
Yellowstone National Park is high in altitude. Its lowest point is about 2,000 meters (a little over a mile) above sea level. Its highest point is almost double that figure.
Location in America