Yosemite National Park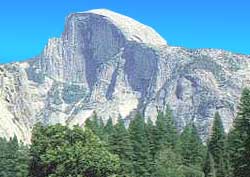 Why Yosemite National Park is special
Its valley is bounded by sheer mountain cliffs, towering falls, and a forested valley floor. The combined scene is one of nature's most inspired creations.
Yosemite National Park's Top 5 must sees
These are the attractions in Yosemite National Park that impress visitors the most. Each is described below.
Half Dome
The icon of Yosemite National Park (see photo). Tip: It's best photographed in the afternoon sun.
El Capitan
This steep-sided peak soars almost 1,100 meters (nearly 3,600 feet) above the Yosemite National Park valley floor.

Bridalveil Falls
The 188-meter (620-foot) high Bridalveil Falls gained its name because winds push its falling water around, creating a plunging gossamer spray.
Yosemeti Falls
It is one of the world's highest falls, the equivalent of a modern 240-story building. Although it appears to be a single entity, it is a combination of three sequential falls.
Mariposa Groves
This the home of Giant Sequoias, the world's biggest and oldest botanical life form. One sequoia tree is 2,700 years old, dating back to the seedling days of the Roman Empire.
When to come to Yosemite National Park
Early May and late September
Early May and late September The first period is the best all-around time to visit. The second is the next best.
May and early June
Yosemite National Park's waterfalls are most vigorous then. They typically dwindle to a trickle by late Summer and Fall.
Mid-May to mid-September
The lion's share of the three million annual visitors come in this period. During this peak tourist season, you will likely experience overwhelming crowds and traffic clogged roads. To make matters worse, middays in midsummer are typically hot (32°C or 90°F). If you do visit in the summer, try to avoid weekends and holidays - and see the principal sights early or late in the day when the heat and crowds are less severe.
Winter
Snow can be heavy, enough to close many roads. On the positive side, Yosemite becomes a winter wonderland.
Yosemite National Park's best vantage points
Glacier Point
It is about 970 meters (3200 feet) above the valley floor and offers a fabulous vista of the valley, Half Dome, and more. Glacier Point is my favorite lookout.

Sentinel Bridge
Camera-friendly views of Half Dome are seen from the valley floor level as you walk across Sentinel Bridge.
Wawona Tunnel
Seconds before you exit the tunnel on the main road heading into Yosemite, the valley suddenly comes into view and is artistically framed by the Wawona Tunnel's curved ceiling. This is a popular postcard shot and is most people's first view of the valley.
More Yosemite National Park tips & insights
Wildlife
It includes bears, mountain lions (cougars) and coyotes.
First humans
Anthropologists believe that Indians first settled in the valley some 8,000 years ago.
Hiking
There is a variety of hiking trails to please nearly everyone. They range from challenging backpacker paths to short easy loops.
Yosemite National Park at night
The light-faced canyon walls are beautifully lit during full moons. And, stars are brilliant on moonless nights because Yosemite National Park is not near a city or large town. Another factor: You're in a very deep valley. This further helps shield the invasive, defused sky glow emanating from distant cities.
Yosemite National Park accommodations
They range from luxury (the Indian-themed Ahwahnee lodge) to cabins (Curry Village) to bare ground sites for bring-your-own tenters.
Reservations
Lodge, cabin and camping reservations should be made months in advance for the summer season. The Ahwahnee Lodge is usually fully booked for weekends a year in advance.
Schedule
The national park is open 24 hours a day every day. However, entry can be seriously delayed on high-traffic days.

Distance from San Francisco
Yosemite National Park is about 300 kilometers (200 miles) east of that city.
Location in America